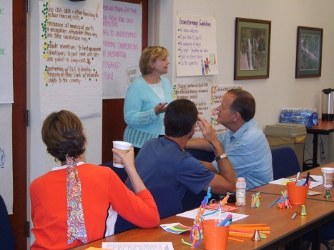 As Lundy Leadership enters its 25th year of service, I have decided to focus on providing training and coaching to the group closest to my heart. I have always had a soft spot for new supervisors. They play such an important role in the organization, yet often receive very little in the way of information, practice, and support.
Lundy Leadership has developed and fine-tuned a series of tried-and-true workshops covering 30 different topics that are essential for new supervisors. These workshops provide an experiential and interactive way for participants to quickly improve their ability to lead their teams to high engagement, high innovation, and high productivity.
The workshops are designed as half-day sessions, but can be tailored to various time frames to fit your needs.
We can also customize any workshop to fit your organization. We specialize in providing training to local government organizations, but also have a proven track record working with federal government agencies, for-profit companies, and non-profit organizations. Please see our selected client list.

Participants can be those who are in line for possible promotion to supervisor, new supervisors, or supervisors who have been in place for a while but have not received training.
You can provide all or most of the 30 workshops (ask us about our volume rates), or pick and choose from the menu to cover the topics that you think are most relevant for your supervisors.
Group training sessions can be accompanied by individual coaching sessions to help target specific solutions and results for each participant. Click here to find out more about our Intentional Leadership Coaching program.
Our facilitators have a proven track record helping new supervisors succeed, and are fully committed to helping supervisors develop their full potential as leaders.
Call me at 720-581-3257 or email me at This email address is being protected from spambots. You need JavaScript enabled to view it. to set up your training sessions or for more information.
And thank you for entrusting us with those whom we believe are your most valuable assets – your front-line supervisors!
Sincerely,

Phyllis Lundy, President